​​​​​​​• In 2022, Kazakhstanis purchased 123 thousand new cars
​​​​​​​• Car production increased by 21,9%
In 2022, the automotive market of the Republic of Kazakhstan continues to show growth and this is a high result over the past 7 years. According to Association of Kazakhstan Auto Business (AKAB), in 2022 official dealers sold 123 778 units new cars and commercial vehicles, which is a total of 5,3% more than in 2021. In December, the car market showed the best result this year - 13 759 units: growth compared to December last year is 28,3%.
Despite global challenges, problems with the supply of cars, the distribution or production of which was based in Russia, the market was able to reorient itself - new brands appeared in Kazakhstan, the range of cars produced at existing plants in the country expanded. The production of passenger cars increased by 28,1% to record 103 345 units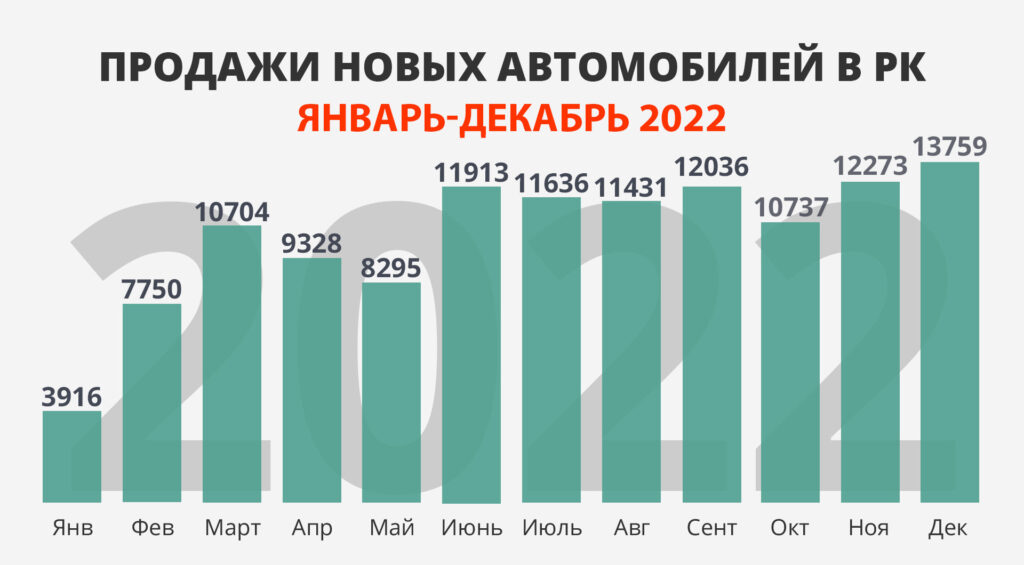 First position in the top ten best-selling cars in 2022, with market share 27,7% secured Chevrolet (34 289 units; + 17,8 % to last year's results). second line with 28 864 cars sold and 23,32% market share is Hyundai (+ 27 %). Kia on the third line - 14 421 units and 11,65% market share (+ 48,6 %). Toyota - in fourth place9 622 units; -30,5%). Lada while retaining the fifth line (7 386 units; -21%). In the first year of sales Chery ranks sixth 4 464 units In seventh place in sales of cars Jac (3 371 units; + 22,9 %). TOP 10 most successful brands close: Lexus - 2 540 units (+ 44,6 %), exeed (1 876 units) and Haval (1 500 units; + 24 %).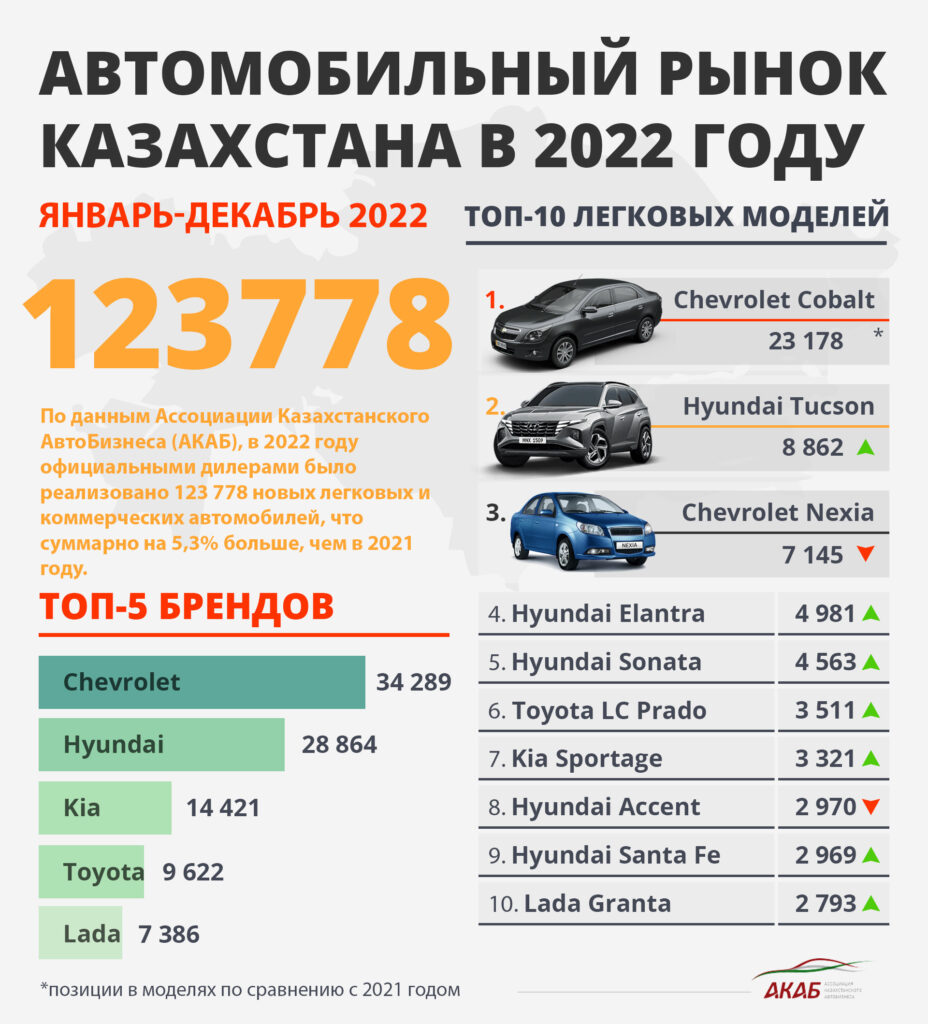 Leading in terms of models Cobalt Chevrolet (23 178 units). In second place Hyundai Tucson (8 862 units), the third line of the rating is occupied by Chevrolet Nexia - 7 145 units Next on the list: Hyundai Elantra (4 981 units), Hyundai Sonata (4 563 units), Toyota LC Prado (3 511 units), Kia Sportage (3 321 units), Hyundai accent (2 970 units), Hyundai Santa Fe (2 969 units) and Lada granta (2 793 units).
According to Bureau of National Statistics, for the twelve months of 2022, Kazakhstan produced 113 925 units vehicles of all types 21,9% more than in January-December 2021. The total result of the automotive industry in terms of money exceeds the same result of the previous year and amounted to - 1,2 trillion tenge.
The leading position is occupied by the Kostanay plant Allur (SaryarkaAvtoProm), here it was produced 70 029 units cars against 60 016 units In the past year. Almaty Hyundai Trans Kazakhstan increased production to 37 205 auto. In Semipalatinsk SemAZ produced 2 466 units commercial technology. To Kokshetau "KAMAZ Engineering" produced 1 462 units trucks, Almaty Hyundai Trans Auto produced 1 007 units commercial vehicles, in the Karaganda region QazTehna released 568 buses, Daewoo Bus Kazakhstan produced 210 units technology.
The well-coordinated work of official manufacturers together with the government made it possible not only to attract investments, but also to increase jobs - a tire production plant began to operate KamaTyres UK whose products will be sent, among other things, to the primary equipment of cars. The main events in 2022 are the launch of the construction of a new car plant Chery, Haval и Changan in Almaty, as well as expanding the capacity of the plant All to launch CKD production with welding and painting of car bodies Kia Sportage и Chevrolet onix.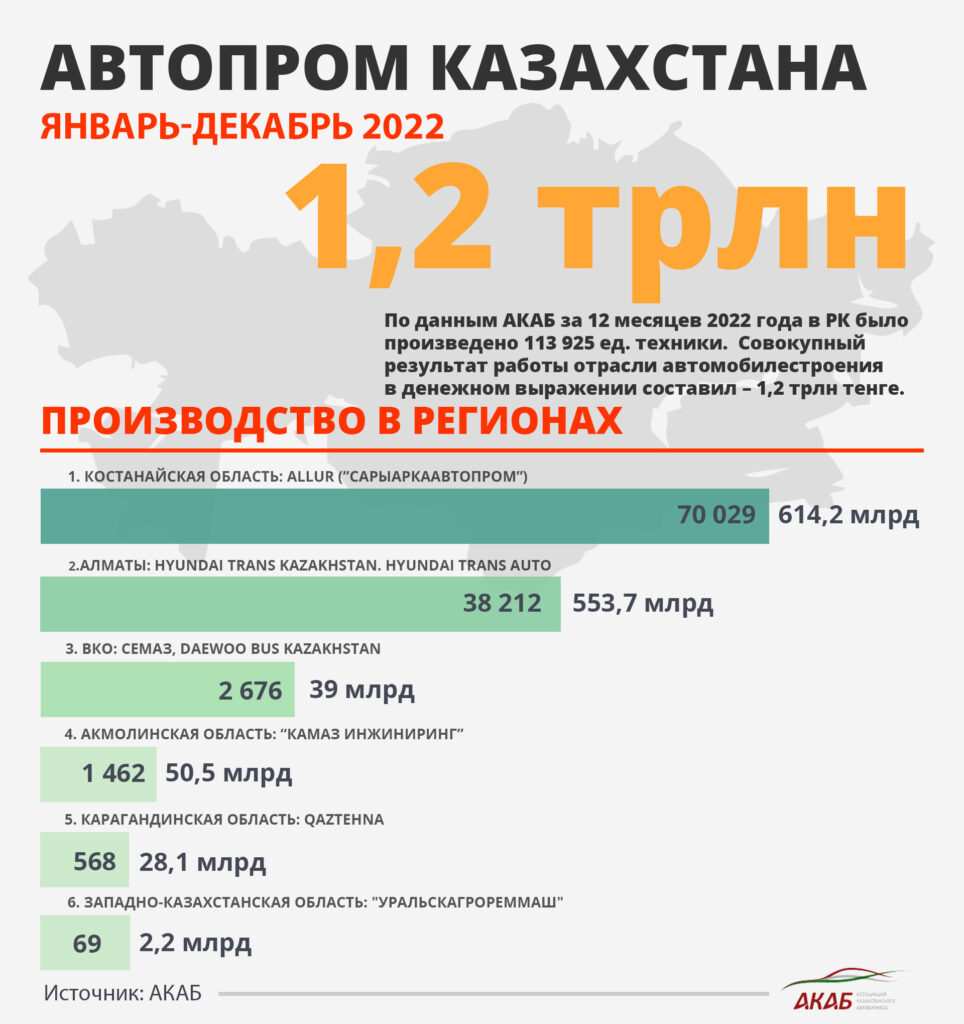 Analyzing the prospects for the development of the market and the industry, in 2023 the trend of increasing the share of local cars in the market will continue. At the same time, the auto industry will continue to expand its production capacity and increase the localization of its products.