__________________________________________________
• In July, Kazakhs spent 70,2 billion tenge ($170,8 million) on new cars, trucks and buses.
According to Association of Kazakhstan Auto Business (AKAB), sales of new cars in July showed a slight decline, after almost doubling in June (deferred demand due to lack of sales in April, May), but nevertheless remained in positive territory compared to last year by 4,6%.

In Kazakhstan dealers sold 6 945 cars and light commercial vehicles, and 572 units trucks, special vehicles and buses. Since the beginning of the year, cars have been sold for more than 390 billion tenge, in quantitative terms, sales increased to 43 658 units, which is 10,8% more than in January-July 2019.

«"According to the results of seven months, the market, despite the quarantine, grew by 10%. The pandemic has certainly affected the development of the industry and 2020 has changed both existing consumer habits and the offer from dealers and manufacturers. The changes helped to boost business and the state to create unique conditions for consumers. So, for example, in August, mini public service centers began to work in dealerships. This allows you to reduce the time for registration and re-registration of cars, and makes the purchase even more convenient and comfortable. In general, dialogue with the state is extremely important for dealers and manufacturers", - comments Anar MAKASHEVA, Vice-President of AKAB.​​​​​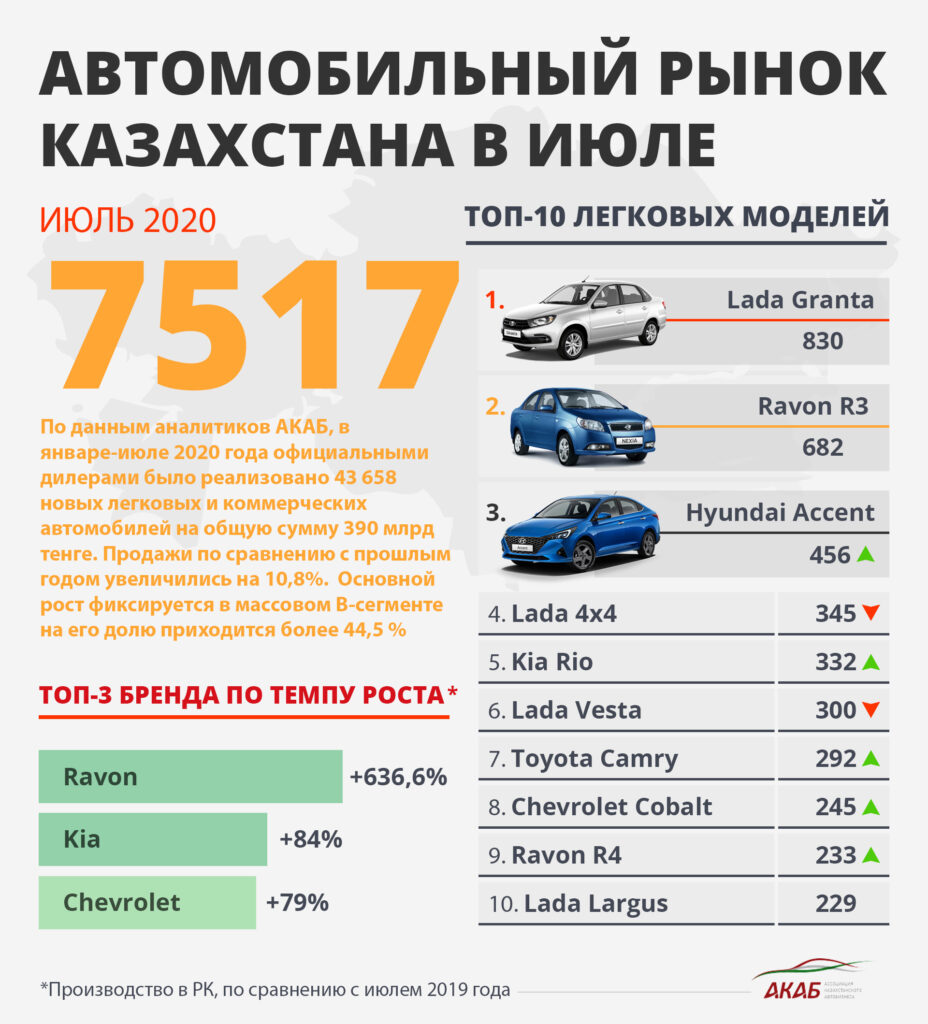 According to AKAB analysts, the main growth is recorded in the mass B-segment (compact budget cars), which accounts for more than 44,5 % market. The growth of the segment is mainly driven by sales Smooth R3. Ravon against the backdrop of last year's results continues to show a three-fold increase, car sales rose to 5 unitsChevrolet, which will eventually replace Ravon, sold out in less than three months 959 units
Kazakhstanis still give their preference to cars Hyundai, Toyota. So, in seven months of 2020, 8 030 car production "SaryArkaavtoProm" (+ 8,6 % to last year's results). Dealers Toyota sold 5 581 automobile (-30,8%). Cars of the brand are also popular Kia - 3 695 (+ 84 %), Renault (1 415 units; + 9,7 %), Nissan (1 138 units; -6,9%), Volkswagen (1 049 units; + 12,9 %) and Lexus (715 units; -18%).