In January, Kazakhstanis purchased 10 new cars, trucks and buses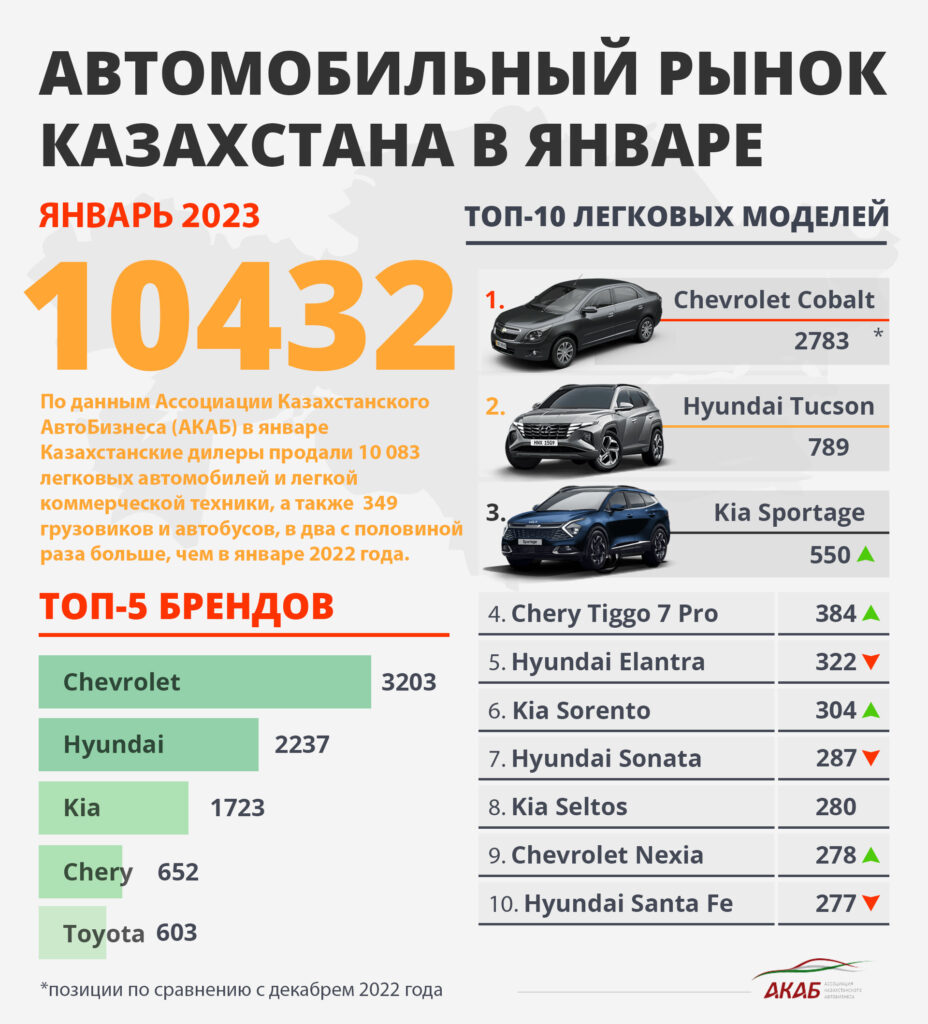 New car sales in January are historically considered the lowest of the year, and 2023 was no exception, falling behind last December's peaks, but two and a half times higher than January 2022.
Despite the difficulties with logistics and the ongoing crisis of semiconductors, official dealers manage to meet demand and satisfy the Kazakhs with variety.
According to Association of Kazakhstan Auto Business (AKAB), in the first month of 2023 official dealers sold 10 083 passenger cars and light commercial vehicles, and 349 units of trucks, special machinery and buses, against 3 916 cars in January last year.
The top ten brands are traditionally topped by a trinity Chevrolet - 3 203, Hyundai - 2 237 и Kia - 1 723 sold cars. Chery in fourth place - 652 units auto. In fifth place is Toyota — 603 units In sixth place Haval (370 units), after it Jac (227 units) и exeed (209 units). AT TOP-10 top sellers also included two premium brands Lexus (192 units) and BMW (140 units). It is worth noting that a new player has appeared on the market - Changan, and it's gaining momentum 139 sold cars.
In the context of models in January, the bestseller of the last year is in the lead - Chevrolet Cobalt (2 783 units), Hyundai Tucson In second place - 789 units, Kia Sportage with result 550 sold crossovers in third place. Next on the list: Chery Tigo 7 Pro (384 units), Hyundai Elantra (322 units), Kia Sorento (304 units), Hyundai Sonata (287 units), Kia seltos (280 units), Chevrolet Nexia (278 units) and Hyundai St. Fe (277 units).
For your information:
The Association of Kazakhstan Automobile Business (AKAB) is a non-profit organization that unites official distributors, dealers, and car manufacturers of passenger and commercial vehicles in the Republic of Kazakhstan. AKAB is the only organization that officially receives data on sales, production and registrations of cars in Kazakhstan and has the right to distribute them.
​​​​​​​The main task of AKAB is to form a competitive, strong, modern market in Kazakhstan based on the best international standards and practices, as well as to organize a balanced system of relations between the state and participants in the automotive market: consumers and suppliers of goods and services in the automotive industry and spare parts.
For more information, please contact:
* Press Service of the Association of Kazakhstan Auto Business (AKAB)
+7 (717) 299-99-37 | PR@akab.kz | http://akab.kz