In 2021 year Association of Kazakhstan Auto Business (AKAB) conducted a survey among car owners, in addition to the main preferences and activities of the respondents, the age and gender of the respondents were taken into account. In total, more than 73 thousand questionnaires were processed, on the basis of which the analysts compiled the age structure of Kazakhstanis and the rating of car brands by the age of their owners.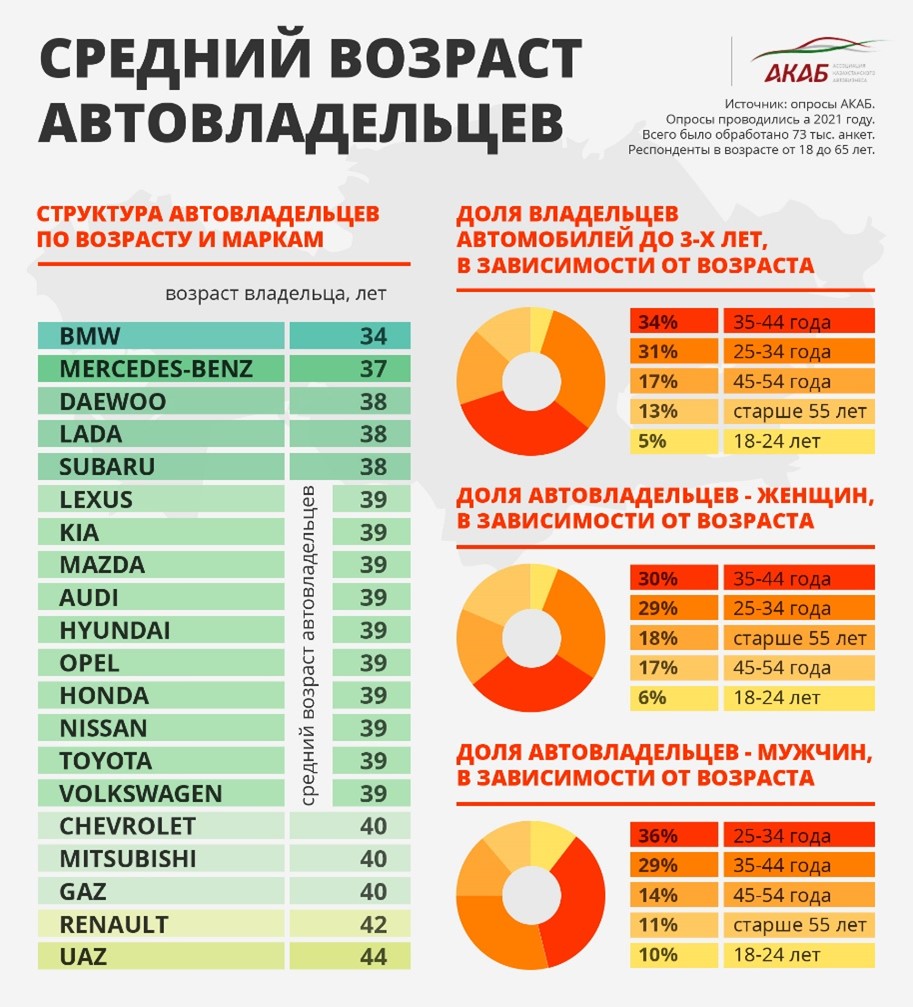 According to the study, the average age of car owners in Kazakhstan is 39 years, these are the owners of brands popular in Kazakhstan such as Toyota, Hyundai, Kia, Volkswagen, Audi и Branch. Nevertheless, depending on the brand of car, the age of car owners differs markedly. The youngest own cars BMW - average age of owners 34 of the year. The oldest in our country are car owners UAZ - Admirers of Ulyanovsk SUVs on average 44 year.
It is also worth noting that the age of owners of new cars (up to 3 years old) is 35–44 years. In addition, AKAB recorded the highest activity among women aged 35–44, and among men aged 25–34. According to the survey, half of all crossovers Hyundai Creta и Nissan Qashqai belong to women, and the hatchback became the most female car under 10 years old Kia Picanto (more than 63% of respondents).
For your information:
The Association of Kazakhstan Automobile Business (AKAB) is a non-profit organization that unites official distributors, dealers, and car manufacturers of passenger and commercial vehicles in the Republic of Kazakhstan. AKAB is the only organization that officially receives data on sales, production and registrations of cars in Kazakhstan and has the right to distribute them.
​​​​​​​The main task of AKAB is to form a competitive, strong, modern market in Kazakhstan based on the best international standards and practices, as well as to organize a balanced system of relations between the state and participants in the automotive market: consumers and suppliers of goods and services in the automotive industry and spare parts.
For more information, please contact:
* Press Service of the Association of Kazakhstan Auto Business (AKAB)
+7 717 299 99 37 | PR@akab.kz | http://akab.kz