__________________________________________________
• In January-September 2020, Kazakhstanis purchased 63 units. cars and commercial vehicles
The country's car market continues to maintain the pace set in August, sales of new cars in September 2020, including exports, increased compared to September last year by 65%, Kazakh dealers sold 9 804 cars and light commercial vehicles, and 1 136 units of trucks, special vehicles and buses, of which 798 units cars were exported to Russia, Uzbekistan and Kyrgyzstan.
â € ‹â €‹ â € ‹â €‹ â € ‹â €‹ â € ‹
The activity is largely driven by pent-up demand and replenishment of stocks from new car dealers. According to the results of nine months of 2020, the domestic market grew by 21% to 63 408 sold cars.

"For the second month in a row, sales have exceeded 9 units, but the automotive market is still not saturated. Taking into account the remaining three months, the forecast of AKAB is positive, the country's automobile market in 2020 will exceed 90 thousand units, of which more than 60 thousand units are domestically produced passenger cars and commercial vehicles," - comments AnarMAKASHEVA, Vice President AKAB.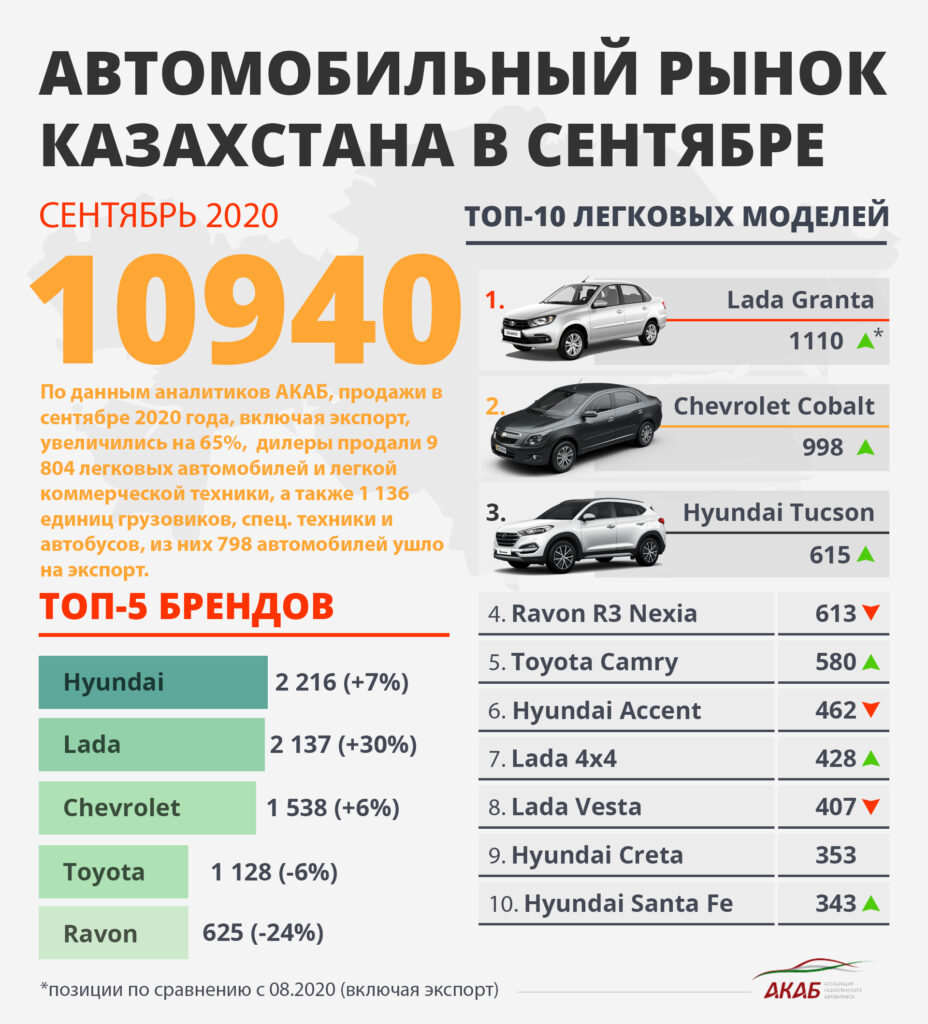 The largest increase compared to last year continues to show Chevrolet (710%) and Ravon (268%). And if the latter is gradually leaving the scene, then Chevrolet has confidently made its way into the top three in September in the standings of brands and is in the lead in the ranking among models.

In the TOP September 3 Chevrolet in third place with 1 538 cars sold, including exports, of which Kazakhstanis purchased - 1 353 cars (+ 6 % by August 2020). Lada with the result 2 units (+ 30 %) In second place. Hyundai in first place 2 units of them 1 782 vehicles are registered in the Republic of Kazakhstan (+ 5 %).

On the fourth line Toyota - 1 128 units total sales of which in Kazakhstan were sold 1 087 cars (-7%). in fifth position Ravon - 625 units of which 619cars were purchased by Kazakhstanis. Sixth place at JAC, dealers sold 323 car and 122 units. have been exported. The seventh line Kia — 407 units. TOP-10 best sellers in September close: Volkswagen (342 units.), Nissan (282 units.) and Renault(251 units.).

In the context of passenger models, according to the results of September, the leaders are Lada granta (1 units) and Cobalt Chevrolet (998 units of which Kazakhstanis acquired 880 units.). Closes the top three Hyundai Tucson - 615 units. (470 units. registered in the Republic of Kazakhstan). Fourth place at Smooth R3Nexia - 613 sedans, of which 607 units In Kazakhstan. Fifth place in the bestseller of past years - Toyota Camry (580 units., of them 567 units. issued in the Republic of Kazakhstan). Next on the list: HyundaiAccent (Total 462 units., of them 425 units bought by Kazakhs) Lada 4 × 4 (428 units.), Lada Vesta (407 units.), Hyundai creta (353 units., including export, — 317 units. remained in Kazakhstan). Closes the top ten Hyundai Santa Fe (343 units including export deliveries of them 272units purchased by Kazakhs). Nine out of ten models are made in the Republic of Kazakhstan.