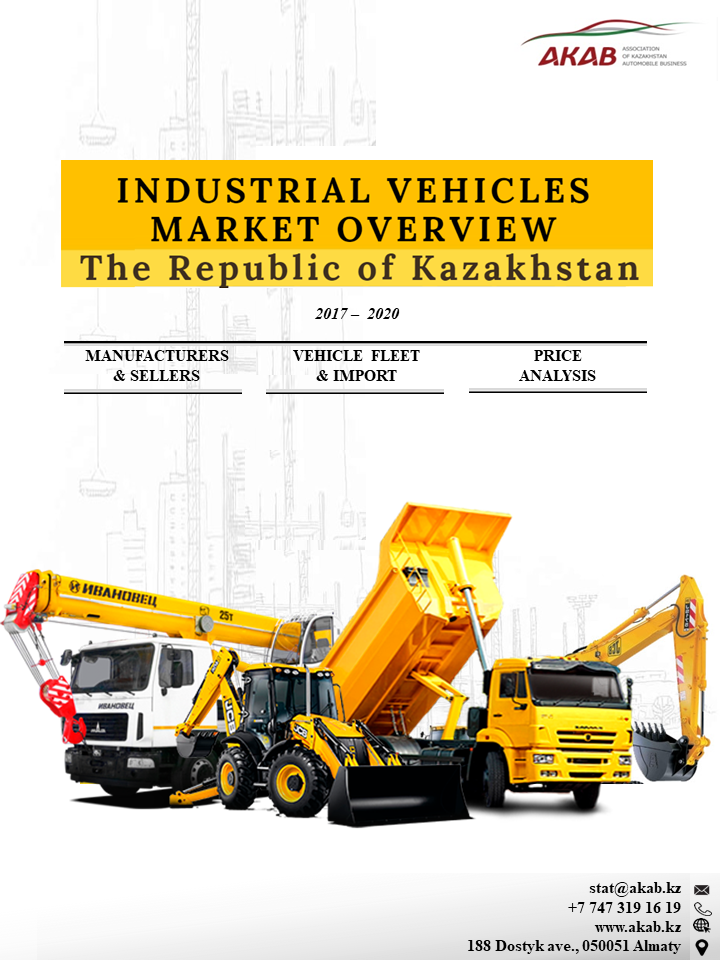 The Association of the Kazakhstan Auto Business conducted a study of proposals on the market of industrial vehicles in the Republic of Kazakhstan in 2019-2020, based on official data provided by the Ministry of Internal Affairs, the State Revenue Committee as well as its own data obtained through collection and consolidation from various primary sources. The report provides information on manufacturers and sellers of industrial vehicles. This report contains import analysis (2017-2020), wheel based industrial vehicle fleet and the price analysis.
The report is presented in PDF format on 131 sheets. Contains the following chapters:
PART 1. MARKET CONDITION
GDP, INFLATION
OIL PRICES
CURRENCY MARKET
INDUSTRIES OF ECONOMY
1.2. Dynamics of the construction sector in Kazakhstan
PART 2. MANUFACTURERS OF INDUSTRIAL VEHICLES
PART 3. INDUSTRIAL VEHICLES SELLERS IN THE REPUBLIC OF KAZAKHSTAN
PART 4. IMPORT OF INDUSTRIAL VEHICLES IN THE REPUBLIC OF KAZAKHSTAN. 2017-2020.
4.1. Total amount, share.
4.2. Amounts in tenge and USD.
4.3. Vehicles and equipment types. Quantity, share.
4.4. Countries of import.
PART 5. INDUSTRIAL VEHICLE FLEET
5.1. The structure of the truck fleet in the Republic of Kazakhstan.
5.2. The structure of the fleet of equipment for cargo transportation.
5.3. The structure of the construction machinery park.
5.4. Structure of the fleet of cranes and manipulators
PART 6. PRICE ANALYSIS OF INDUSTRIAL VEHICLES
6.1. The level of proposals for the types of special equipment. Fleet age.
6.2. Offers in the regions.
6.3. Average prices by type of equipment. Dynamics of average prices (2020, 1Q, 2Q, 3Q, 4Q). Average prices by brand and region.
6.4. Minimum and maximum prices by type of equipment in 2020. Prices by brands.
PART 7. GLOBAL MARKET ANALYSIS
7.1. Analysis of the world market for construction equipment.
7.2. Russian Federation.
---
Order Report
---