Ladies and gentlemen!
We invite your company to take part in International Exhibition of spare parts, tools for car repair, service equipment, maintenance tools and accessories -KAZAUTOEXPO2022.
Exhibition Dates: October 10-12, 2022.
Venue: Shopping center "FORUM", Almaty, Kazakhstan.
The purpose of the exhibition is to create a single platform for establishing business contacts necessary for the development and promotion of companies.
Thematic sections:
— Spare parts and systems — spare parts and components of engines, chassis, bodywork, electrical equipment and electronics;
— Autotools;
— Fuels and lubricants;
— Services of car services, equipment, equipment;
— Equipment and components for gas stations, car washes;
— Raw materials and materials for the production of components;
— Auto chemical goods and oils, paints, painting equipment (Paints and varnishes);
– Automotive security systems;
— Tires, disks, tire repair, rubber products;
— Automobile engines and their components;
– Engineering and technology for the automotive industry;
— Garage and diagnostic equipment, tools;
— Equipment for car body repair;
- Tuning - special equipment, working systems, fine-tuning of the structure;
— Equipment and accessories;
– Auto electrics and auto electronics;
— Security alarms and anti-theft systems;
– Car accessories – navigation systems, GPS equipment, air conditioners, roof racks, mufflers, protective grilles, winches, etc.;
— Logistic service
- Insurance companies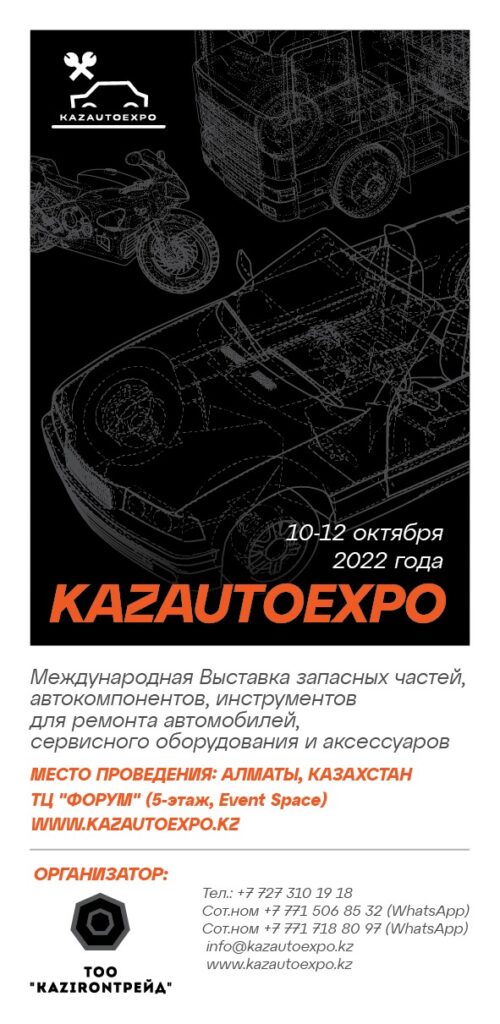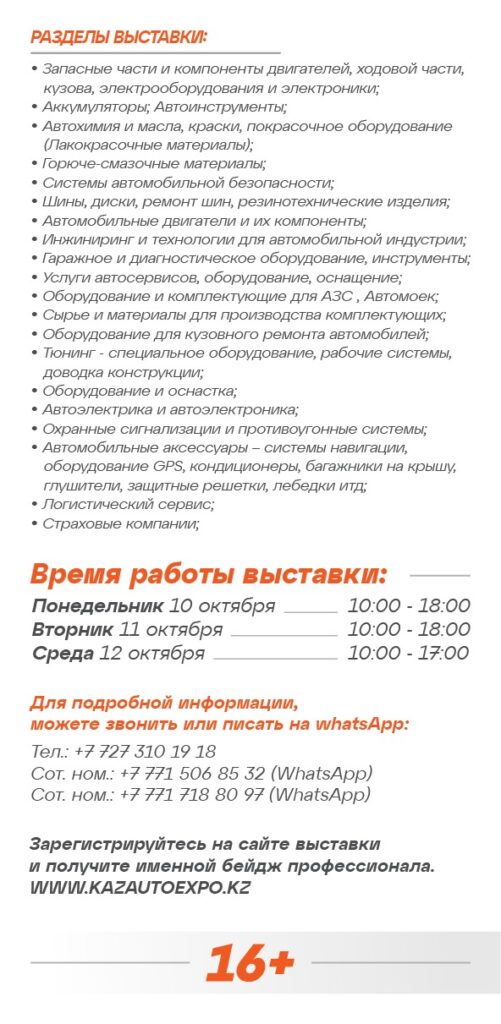 The exhibition is an excellent business platform for industry professionals.
We will be glad to see you among the active participants.
For all your questions, you can contact:
Kazakhstan, Almaty
Phone: +7 771 506 85 32, (whatsapp)
info@kazautoexpo.kz
www.kazautoexpo.kz