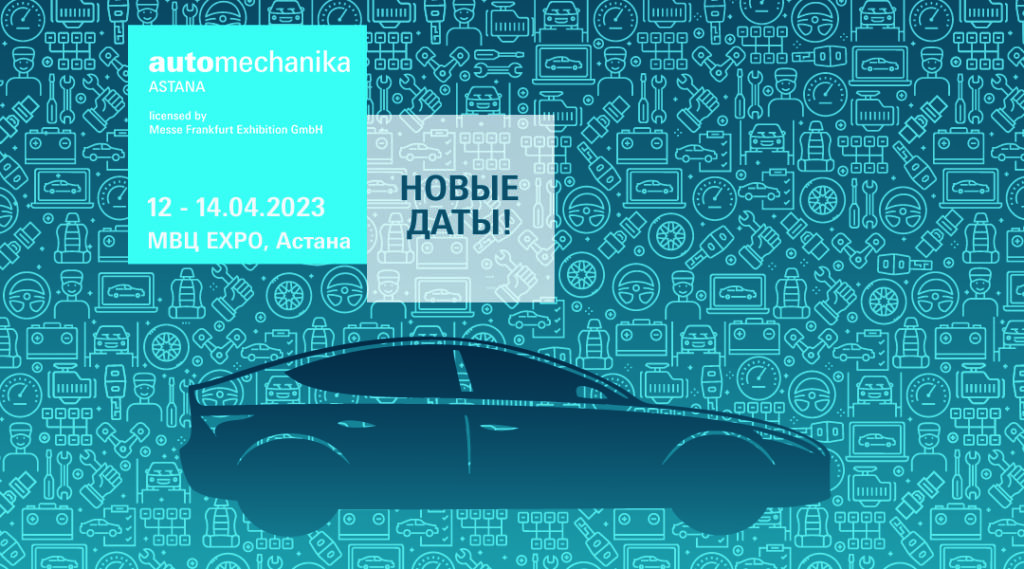 New dates announced Automechanika Astana 2023
International exhibition of spare parts, auto components, equipment and goods for car maintenance in Kazakhstan and Central Asia Automechanika Astana 2023 will be held in Astana, the international exhibition center EXPO from 12 to 14 April 2023.
Automechanika Astana is a platform for networking and searching for new business solutions among representatives of the automotive industry, dealerships, service and repair segments not only in Central Asia and Kazakhstan, but throughout the entire Eurasian Economic Union (EAEU).
Results Automechanika Astana 2022
This year, the international status of the Automechanika Astana exhibition is confirmed by the participation of over 70 brands from Hungary, Germany, Italy, Kazakhstan, China, Poland, Russia, Turkey and Japan.
The list of foreign exhibitors includes the Turkish Association of Automotive Exporters Uludag (OIB), the leading Italian manufacturer of engine parts Freccia International, suppliers of spare parts from Poland (Autopartner, Fristom, MaxGear), Japan (Meiji Sangyo), Hungary (K&K), Chinese manufacturers of equipment and spare parts as part of the national stand.
Leading manufacturers and suppliers of automotive components, equipment and products for car maintenance, such as Karcher, WOG, Kainar, VARTA, presented their products at the exhibition for visitors from among automotive industry professionals.
According to the participants, this year the audience of the exhibition was more specialized: more than 2000 specialists visited the Automechanika Astana 2022 exposition.
The main partner of the exhibition was the largest distributor of spare parts in Kazakhstan Phaeton, which presented auto parts of such global brands as Bosch, Winkod, Sachs, OSRAM and others.
Plans for 2023 year
Automechanika Astanaa, being the main business platform in the countries of Central Asia and the EAEU, will provide its participants with the opportunity to find business partners, establish new supply chains and establish direct contacts with representatives of companies involved in the production, repair and maintenance of cars in order to maintain market positions.
Simultaneously with Automechanika Astana, the Central Asian Exhibition of Commercial Vehicles and Road Construction Equipment will be held at the EXPO IEC
Komtrans Astana / Futuroad Expo Astana, as well as a car dealership combined with a festival of interactive events, NIMS.
Business program
An integral part of the Automechanika Astana exhibition is an informative business program with the participation of experts from Russia, Kazakhstan and other countries. It includes seminars, round tables and master classes.
For example, this year among the participants of the conference there were speakers from the Union of Automotive Industry Enterprises of Kazakhstan "KazAvtoProm", NCE RK "Atameken", the Union of Transport Workers of Kazakhstan Kazlogistics, VARTA, LeoPart and many others.
Become part of a massive auto event
We invite you to participate in the main exhibition for the auto aftersales service industry in Central Asia Automechanika Astana from 12 to 14 April 2023 in Astana. Book a stand to the exhibition now!
Contacts:PR manager: Ainagul Maylybayeva
Mob. +77772463636
Download press release